Taking a Cash Advance With Your Credit Card: A Step-By-Step Guide
A credit card cash advance is a short-term loan obtained using a bank credit card or an automated teller machine. Types of cash advances include obtaining cash through an ATM, Bank, or other financial institutions, and they all add to the credit card balance. As with any other charge made on a credit card, cash advances must be repaid in full after the promotional period ends.
Cardholders get cash advance transactions through an ATM, Bank, or other financial institution or from a credit card company. Check the credit card agreement to see the cash advance limit and if your card provider charges a transaction fee. Some card issuers send cheques to clients to encourage cash advances.
Main Points
Credit card cash advances are short-term loans obtained using a bank credit card or ATM, affecting credit card debt.
Cash advances provide quick access to funds and can be taken out via several channels, such as ATMs, banks, and convenience checks.
Although they have benefits such as being easy to obtain, cash advances come with risks, such as incurring fees and high-interest rates, which can add to your outstanding credit card balance.
What is Credit Card Cash Advance?
A credit card cash advance is a withdrawal of cash from the account associated with the credit card. This access to cash is usually provided by the type of credit card you have. Fees are associated with taking out a cash advance on a credit card, and restrictions are placed on the amount withdrawn, also known as the cash advance balance.
Taking out a cash advance on a credit card comes with a few perks, including the following:
It is quick and simple to get.
There is no need to have money in the bank account.
There is no approval procedure involved.
However, it's important to note that the advance interest rates on cash advances are generally higher than other purchases. Christopher Liew, a licensed financial analyst, says that in contrast to obtaining a loan from a bank, borrowers won't be required to undergo a credit check or provide any paperwork to prove identity. Having separate credit limits for cash advances and purchases is also common.
How Does Credit Card Cash Advance Work?
Cash advances are loans taken out against the credit card's credit limits and are subject to the same repayment terms as purchases. Cash advances are obtained via various channels, such as a withdrawal from an automated teller machine (ATM), a bank teller, a cash advance check, or an internet transfer. The period for cash advances typically starts from the date the cash advance transaction is posted to your account. Remember that a fee per cash advance transaction may apply, depending on the credit card issuer and how you access the cash advance.
What Are the Different Ways to Cash Advance From a Credit Card?
There are several credit card cash-out options. Here's how to use a credit card at an ATM, with a cash advance check, and at a bank teller window, considering bank fees, emergency funds, and personal identification.
Through ATM
A cash advance from an ATM needs a card and an issuer-issued PIN. Daily ATM withdrawal limitations and fees comparable to checking accounts applied. Ensure you know the bank fees associated with this method, and always protect your personal identification information.
Through Checks
Credit providers may issue convenience checks related to the account. A convenience check operates analogously to a conventional review, enabling the holder to pay a particular individual or organization by deducting the amount from the credit account rather than writing a check. This method can be seamless for those with consumer credit cards.
Through the Bank
Visit Bank and request a cash advance using a credit card. The bank representative may need your identification, and the process may involve payment by credit card and adhering to credit card contracts.
What Are the Benefits of Credit Card Cash Advance?
There are quite a few advantages that come along with borrowing money against the available credit on a credit card, including the following:
Convenient and quick access to an emergency fund.
Easy payment by credit card options.
Secure transactions with personal identification requirements.
Multiple methods of cash advance, considering bank fees and credit card contracts.
Quick Cash
Card-issuing banks play a significant role in managing credit card operations. Most financial institutions offer credit cards that enable cardholders to withdraw cash from the available credit lines, such as by making a regular purchase. Go to the company's website to learn more about the card and determine eligibility.
Easy Withdrawals
There is often more than one way to get the money if the company that issued the credit card permits cash advances. Use a debit card linked to a checking or savings account to withdraw money from any automated teller machine (ATM). This process includes debit card accounts for more convenient transactions.
There is No Need to Check the Credit
There are many ways to get the funds, even without considering your outstanding balance. Fill out and apply for a loan from a financial institution like a bank or credit union. It causes a hard credit inquiry to be recorded on the credit report.
Low Required Initial Deposits
Return a cash advance in various ways, including making modest monthly payments to the credit card issuer, helping you manage your outstanding balance. The minimum payments for cash advances are determined similarly to regular purchase card transactions. It contrasts with an installment loan, which requires repaying it via predetermined monthly installments.
What Are the Possible Risks of Credit Card Cash Advance?
A cash advance from a credit card is a good idea when short on money. It's easy to get extra cash from a credit card. It's risky and must be utilized sparingly. Let's examine the hazards associated with credit card cash advances.
Up-Front Charges
There are automatic charges, such as service charges and credit card surcharges. It costs money to use a cash advance feature on the credit card. It typically costs roughly $10 when borrowing $200 or less. The cost for larger sums generally is 5% of the amount borrowed. The cost of a cash advance automatically pushes you farther into debt if you already have little money.
Interest Increases Right Away
Finance fees on credit cards usually start accruing immediately after the transaction. This means that cash advances offer a different interest-free grace period for regular purchases, leading to higher interest expenses. Additionally, the interest rate for cash advances is often higher than for regular purchases, making it difficult to pay off the debt, especially in case of emergency expenses.
Credit card users typically have roughly 30 days before making regular transactions before interest charges are assessed. A cash advance is charged by the credit card company when making a cash withdrawal or when buying Lottery tickets. The interest rate peaks at 25% and is higher than the buying or flat rates.
Caution Is Advised for Lenders
Cash advances help get acceptable interest rates, higher Spending Limits, and even account closures without warning from creditors. Using financial advances is seen as a warning sign by creditors. It gives the impression that debtors are in financial trouble or might have a high purchase balance. An alternative loan through the Consumer Financial Protection Bureau could be a better option for some borrowers.
Effects of Credit Score
Getting a cash advance affects the credit usage rate. Creditors often look for a utilization rate of 30% or below when contemplating extending additional credit or raising the credit limit. Taking out a cash advance, particularly for a sizable sum, boost the use rate and lower the credit score. A danger associated with credit card cash advances is a lower credit score.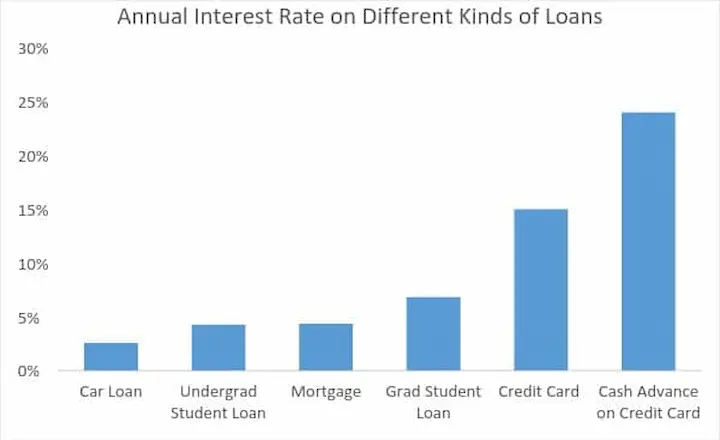 What Is the Average Annual Percentage Rate (APR) When Using Credit Card Cash Advance?
A wide range of interest rates applies to credit cards available from various issuers, brands, and categories of credit cards. Some credit cards are created solely to have low annual percentage rates (APRs), whereas others, particularly those with rewards programs or credit card perks, tend to have higher APRs.
APR is dependent on "creditworthiness," or FICO Score. The most monthly statement "Terms & Conditions" disclosures list APRs. Pay such interest rates depending on the score. Higher FICO Scores mean reduced APRs. Various card options are available, including prepaid credit cards for varying credit card fee structures.
Do all Credit Cards have Cash Advance fees?
Yes, various fees, APRs, and conditions are often associated with credit cards, affecting credit card customers. Cash advances are usually charged as a fixed fee or a percentage of the transaction. Some banks modify the amount depending on the cash withdrawal method, influencing the minimum payments of credit cards.
What Are the Best Credit Cards for Cash Advances?
Checking the card's conditions or cardholder agreement helps understand cash advance costs. Individual banks prefer to charge the same fees for each card in offers but verify the card's requirements.
Our best picks offer cheap or average rates, fees, and perks.
Discover it® Cash Back.
Discover charges a reasonable cash advance fee and APR. Its main selling factors are the Discover it® Cash Back's substantial cash back bonus categories and top-rated U.S.-based customer support staff. The card also provides Consumer Card Products and partners with credit card processing companies for seamless transactions.
Chase Freedom Unlimited®
It's no surprise that more than 93 million cardholders have Chase credit cards in cardholder wallets, given the company's variety of cards for frequent travelers and daily consumers. The range of credit cards offered by Chase has a similar fee and the same APR for cash advances. Because of its substantial sign-up bonus, initial 0% APR rate, and limitless cash back benefits received on every transaction, we enjoy the Chase Freedom Unlimited®. This card also features credit card travel insurance and is supported by various card associations for added convenience during Air Travel Card usage.
Capital One Venture Rewards Credit Card
With the Capital One Venture Rewards Credit Card, you can enjoy the benefits of card verification systems and a user-friendly credit card payment terminal experience. This card is perfect for travelers and offers exceptional convenience while making local and international purchases.
Any of our top five preferred Capital One cards would be a good option for a cash advance due to the low cash advance APRs and fees. Cardholders pay a minimum fee of $10 or 3% of the advance, whichever is larger, for the service. Cash advances have a (relatively) low APR. These cards can also be used for debit card purchases without experiencing high card penalty rates. Working with an efficient merchant services provider can maximize your credit card usage habits.
Capital One Savor One Cash Rewards Credit Card
The only cost associated with this card is 3% or $10 in the event of a cash advance. Opportunities for incentives are what draw cardholders. Gain limitless 3% cash back on eating, entertainment, and grocery store purchases, plus 1% on all other transactions without worrying about shifting categories and restrictions. Neither yearly fees nor costs for international transactions are charged. This physical card can also be used for business cards and other transactions, ensuring cardholders benefit from lower fees credit card issuers might charge.
Bank of America® Unlimited Cash Rewards Credit Card
This card offers a true cash rewards experience, with an unlimited 1.5% cash back on all debit card purchases. One of the perks of this card is the lack of an annual fee, which many credit card usage habits often seek to avoid. Cardholders can enjoy the benefits of lower card penalty rates and collaborate with an excellent merchant services provider. As with the Capital One card, this physical card can also be used for business cards and other transactions at a minimal expense from the fees credit card issuers impose.
The Bank of America® Unlimited Cash Rewards credit card provides a competitive cash advance APR, and its average card minimum charge of $10 or 3% (whichever is greater) is lower than that of other cards on our list. The card sales volume for their credit card solicitation is impressive, which makes them competitive with other major card schemes. Furthermore, Bank of America is well known for sending its cardholders promotional offers as a check for cash advances at promotional rates. This can be seen as a part of their Card Issuer Fraud Management strategy.
Surge Credit Card
Various financial institutions, such as Credit One Bank, offer a surge credit card that provides cardholders with various benefits, including the ability to make payments. With Surge credit card payment, cardholders can typically choose from several options, such as:
Online payments
Mail payments
Phone payments
Automatic payments
As a result, this allows cardholders to enjoy more flexibility while managing their finances. Also, card transaction fees may vary between institutions and card products. Hence, it's crucial to carefully review the terms and conditions before applying for a surge credit card.
Online
Most financial institutions offer online access to their card operator and credit card owner, where they can make payments, view statements, and manage their account using credit cards.
Automatic payments
Cardholders can set up automatic payments, automatically debiting the minimum payment or a set amount from their bank account each month. This is one of the many cardholder data security measures banks offer cardholders.
Phone
Cardholders can pay over the phone by calling the customer service number on their card's back or their financial institution's website. Their respective banks usually outline the cardholder's liability to cardholders.
Mail
Cardholders can send a check or money order for the amount due to the address listed on their statement. Some members of the Association of Card Issuers may prefer this option.
It is important to note that different financial institutions may have different payment options available, so it is best to check with the specific provider for the most up-to-date information.
First Premier Card
First Premier Card is a credit card offered under the First Premier brand. This card is designed for individuals with less-than-perfect credit who want to establish or rebuild their credit. To be eligible for First Premier Card, applicants must meet age requirements, have a valid government-issued ID, a valid U.S. street address, and a regular source of income.
The application process for First Premier Card is simple and can be completed online or over the phone. During the application, you will be asked to provide personal information such as your name, date of birth, social security number, and employment information. Once the application is submitted, First Premier Bank will review the information, and card analysts will decide based on your creditworthiness, considering the common misconception about Card Myths.
In addition, the First Premier Card is one of the many credit cards using credit cards within the common credit card networks available in the market so that customers can use it for their purchases. Despite its wide acceptance, the card does not fall under the Costco Credit Card category.
It is also pertinent to note that First Premier Card is well-equipped with digit card security measures to protect against unauthorized transactions. Some other cards, particularly the ones issued by European banks, are also popular for their enhanced security features.
If approved, First Premier Card will be sent to you in the mail along with instructions on activating and using it. It's important to note that this card uses a card imprinter and comes with a high annual fee and a high-interest rate, so it's important to carefully consider if First Premier Card is right for you before applying.
Using My First Premier Card responsibly and making timely Card Signatures can help you improve your credit score. By keeping your bank balance low and paying your bill on time, you can demonstrate to lenders that you are a responsible borrower and improve your chances of getting approved for better credit products like exclusive credit cards in the future.
What Are the Alternatives for Credit Card Cash Advances?
Getting a cash advance seems smart, but it easily leads to significant debt if borrowers do not pay it back on time. PaydayChampion recommends going without a cash advance and choosing another financial arrangement, such as using disposable credit cards or unsecured loans, since the conditions of these choices are more favorable. It's also a good idea to consider currency conversion options when purchasing abroad to avoid high cash advance fees.
Personal Loan: Personal loans offer better terms than cash advances, and borrowers with good credit borrow more money. The interest rate on a loan is often set when contemplating extending additional credit or raising the credit limit. This rate is typically significantly lower than the annual percentage rate (APR) that credit card issuers impose. In some cases, loans may be regulated by the Federal Reserve Bank, and federal limit regulations might apply.
Borrow from family or friends: Another option is to borrow money from family members or acquaintances. Even though it is embarrassing to ask for money, this is the most suitable and economical option to get the necessary funds. It is essential to devise a repayment strategy, keeping in mind potential age limits for the other party, to maintain a positive connection with them.
Credit Cards: Several credit card issuers have introduced cheaper options to access the credit line, including the opportunity to transfer the current credit into an installment loan without a new loan application. Special deals from the company that issued credit cards may come in the form of a charge plate or charge slip to track claims for charges. Such innovation reduces financial risks and aids in maintaining a healthy relationship with the Federal Reserve Bank.
What Is the Minimum Amount to Borrow in Credit Card Cash Advance?
Cash advances are typically limited to a percentage of the card's credit limit. For instance, if the credit limit is $10,000 and the cash advance limit is capped at 30%, the highest cash advance to get is $3,000. The card scheme mark and terms for merchants may also influence the minimum amount that can be borrowed.
Below are some statistics about applying for a cash advance with your credit card:
| Stat | Value |
| --- | --- |
| Average cash advance fee | 3% |
| Average cash advance APR | 25% |
| Maximum cash advance allowed | 20% of your credit limit |
| Cash advances do not count toward your credit card's rewards program | 1-2 days |
| Interest begins accruing on cash advances immediately | Yes |
| Cash advances are a good option for emergencies but should be avoided. | No |
| Cash advances are a good option for emergencies but should be avoided if possible. | Yes |
Statistics about applying for a cash advance with your credit card
Is There a Limitation on How Much to Borrow in Credit Card Cash Advance?
No. Resist withdrawing a little bit more to have some additional cash. Increased fees and interest rates are applied if the cash advance limit is exceeded—just the amount needed to be taken out. However, the Federal Reserve Bank of Boston is crucial in regulating these limits.
Is There Any Fee for Credit Card Cash Advance?
Yes, there are fees associated with credit card cash advances. These fees may include settlement between merchants, agreements with merchants, and commissions for cash withdrawals. Cash advances often come with average transaction prices that tend to be higher than regular purchases.
Yes, there is often a wide variety of fees, APRs, and conditions associated with credit cards. Reading the small print on the card that is holding or wishes to open is important. Most financial institutions impose either a set interest rate or a percentage of the total transaction as the cost for cash advances, whichever is higher. Certain banks charge the fee depending on the method chosen to withdraw cash. However, the price of cash advances is one of many expenses that are linked with them. It is distinct from the interest accrued on standard accounts in that it begins immediately rather than after a grace period has passed.
Considering the consumer prices and the biggest expense associated with cash advances, it is crucial to have an emergency savings fund as a safety net for unexpected financial needs.
Does Credit Card Cash Advance Hurt My Credit Score?
No. Taking out a cash advance does not directly affect the credit or score but indirectly influences credit. The inability to make timely bill payments lowers credit ratings. It reduces credit scores when a cash advance pushes the card's limit beyond. One should also account for the expense of processing checks associated with credit cards.
Recent reports like 2015.Federal Reserve Bank of Chicago and 2021. Federal Reserve Bank of Kansas City has studied the impact of cash advances on credit scores, emphasizing the importance of managing credit and maintaining a healthy emergency savings fund.
Is Credit Card Cash Advance worth it?
Yes, it is worthwhile to get a credit card cash advance. Simply going to a bank teller or an ATM, showing the card, and walking away with cash are all required to get a cash advance. Although it appears the perfect solution, cash advances often come with fees and higher interest rates. Some Famed hedge fund managers use cash advances strategically days before funds are needed for investments.
What is the difference between Cash Advance Loans and Credit Card Cash Advances?
Cash Advance Loans and credit card cash advances come with up-front costs and fees that continue to accrue if the loan is paid back after some time. A cash advance is a form of short-term loan that is often offered by a credit card business. These loans are typically associated with high-interest rates and fees because of the short repayment. In contrast, a credit card cash advance is a withdrawal of cash from the account associated with the credit card. It is worth noting that some credit card companies also offer convenience cheques that can be used for cash advances while traveling. These cheques can be especially helpful when dealing with Foreign currency transactions.
Frequently Asked Questions
What is a credit card cash advance, and how does it differ from making regular purchases with a credit card?
A cash advance uses a credit card to borrow cash from ATMs or banks. It has different terms than purchases, including higher fees and interest rates that start accruing immediately.
Can you explain the process of obtaining a credit card cash advance, including fees and interest rates involved?
You use your card and PIN at an ATM or visit a bank to get a cash disbursement. Transaction fees and higher variable APRs apply from the day of advance until repaid.
What are the typical ways to access a credit card cash advance, and are there any limitations on the amount you can withdraw?
ATMs, bank tellers, convenience checks, and cash back from merchants allow access. Limits vary but average 20-25% of the credit limit or around $3000-$5000.
Are there any alternatives to credit card cash advances for obtaining emergency funds, and when might those be preferable?
Better options include savings, selling assets, crowdfunding, personal loans, or 401k loans which have lower costs. Cash advances should be a last resort due to high fees and rates.
What strategies can individuals use to minimize the costs and risks associated with credit card cash advances, such as managing repayment and understanding the terms and conditions?
Pay off the balance quickly, know the rates/fees, use sparingly, explore lower-cost options first, have a plan for repayment, and read the fine print terms before accessing a cash advance.