I Need a Loan, but I Have Bad Credit
Being unable to pay debts is difficult. Personal loans help individuals when they're in a tight spot. If you have a poor credit history, you may be unable to use a wide range of financial services open to individuals with excellent credit. We've got the answers you need.
There are several methods to get a loan despite a poor credit score. One option is to find a personal loan lender specializing in working with individuals with bad credit. These lenders perform credit checks but may be more lenient than traditional financial institutions. We'll go through what they are and how to get them in this piece. In addition, we'll look at a few options to earn money without taking out a loan and provide some tips on building a high credit score.
Another way to get a loan is by consolidating credit card debt through a personal loan, which can help improve your credit score while paying off your debt.
A Bad Credit Loan is an answer you've been searching for.
Main Points
Having a good credit score is essential for loan approval and financial stability.
Credit bureaus evaluate your history of payments, credit utilization, credit mix, and more to determine your overall score.
Secured loans involve collateral such as a house or vehicle, whereas unsecured loans rely on the borrower's creditworthiness.
Finding a personal loan lender specializing in bad credit can be a viable option for obtaining a loan.
The Importance of Knowing Your Credit Score
A good credit score is better than a negative one; we all know this. On the other hand, many individuals have yet to learn how their credit score is calculated, much alone what it is. Understanding components like credit card cash advances is essential, as these can impact your credit score.
A good credit score indicates you can repay a loan or credit line. Financial organizations, merchants, energy providers, and many other industries utilize this evaluation to establish your creditworthiness. Knowing your credit score can help when entering loan agreements as it might affect the terms and conditions.
As part of your credit report, your credit score is included. A credit report, however, is a thorough account of your financial history, including all your current and previous debts. Major credit bureaus collect and analyze consumer data, which issue credit ratings. The three major credit bureaus produce credit reports based on this information, so it is vital to keep track of the information reported by these major credit bureaus to maintain a healthy credit score.
Lenders and creditors consult credit reports (like banks or car dealerships). They decide the loan amount, the down payment, and the interest rate for the loan. Equifax, Experian, and TransUnion are the three main credit bureaus in the United States.
It would be beneficial if the credit bureaus were forced by law to provide free access to your credit score and report at least once a year. Having a peek at your credit record is an excellent place to start. The following are the five most essential elements considered while calculating your credit score:
History of Payments
Considering your late payments history, online lenders and other financial institutions might alter their loan offers. A minimum credit score requirement is usually necessary to qualify for better rates, and having too many late payments may affect the chances of approval. On the other hand, some online lenders might offer equity loans with flexible terms for borrowers with negative payment histories.
Payment history is known to keep track of all the money you've paid out to your creditors and other companies. Prospective lenders may view your repayment history and whether or not you make payments on time on borrowed funds by visiting this page. Any credit score will be swiftly lowered if their payment history is littered with missed or late fees. Debt consolidation loans can help manage multiple debts and make sure you make payments on time. Of the five criteria for calculating your credit score, your payment history and monthly payment amounts are the most important, accounting for 35% of your overall score. Why do we keep urging you to pay your account on time? It's important to note this.
Credit Utilization
Credit use should be at most 25% to maintain a decent credit rating. It is the proportion of available credit that you are currently utilizing. If you owe $225 on a card with a $1,500 credit limit, your credit usage rate is 15%. Having a low credit use rate is a sign of fiscal responsibility. This aspect of your credit report accounts for 25% of your total score.
History of Your Credit
The repayment period plays a significant role in your credit history. Longer repayment periods may indicate that you can manage your debts effectively. Another factor that may affect your credit history is the number of credit inquiries made by lenders, which can have a lasting impact on your credit score. It's crucial to manage your credit accounts and make payments on time to maintain a good credit history.
Your credit accounts, past and present, are shown in your credit history. Long-term, well-maintained reports demonstrate to loan providers that you're responsible for your credit. Your credit history accounts for 14% of your score. Providing loans to people with a good history is more likely.
Credit Mix
You have a "credit mix" if you have a wide range of credit accounts. Managing a vehicle loan and a credit card is a good credit combo. Keep these accounts to convince personal loan providers that you can maintain another type of loan or credit line. This element impacts only 14% of your credit score.
Student loans, among other types, contribute to your credit mix. Lenders regard people with solid credit as less of a risk. They are more likely to get personal loans and help at lower interest rates and better loan terms. Getting out of debt might be difficult for 25% of Americans with bad credit.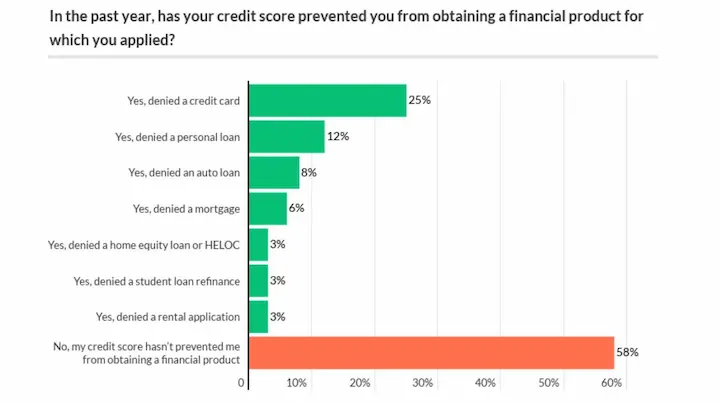 The Difference Between Secured and Unsecured Loans
Secured loans and unsecured loans are two types of loans that may be taken out. These categories have different loan terms and requirements for the borrower.
Collateral, such as your house, vehicle, or savings account, maybe security for a secured loan. Because the collateral the borrower provides minimizes the total risk, a secured loan often has a lower interest rate. But if the loan is not paid back for whatever reason, the borrower might forfeit the collateral to the lending organization. Mortgages and car loans are two of the most common short-term loans.
The borrower's creditworthiness is the sole security for an unsecured loan. Credit cards and school loans are instances of unsecured debt. Unsecured loans are seen as riskier by lenders because they lack collateral. They may have higher interest rates and harsher stipulations than secured loans.
Personal loans for people with weak credit may be obtained, even if secured or unsecured. Installment loans can be a suitable option for those facing a financial emergency. Consider applying for a safe personal loan with collateral if you have any. Collateral might differ between denied and approved if you have bad credit. Complete a loan application to access online loans designed for bad credit borrowers.
Below are some statistics about secured and unsecured loans:
| Feature | Secured Loans | Unsecured Loans |
| --- | --- | --- |
| Collateral | Required | Not required |
| Interest Rates | Typically lower | Typically higher |
| Repayment Terms | May have shorter terms | May have longer terms |
| Total Outstanding Amount in 2021 | $16.5 trillion | $9.5 trillion |
| Average Interest Rate | 5.7% | 10.2% |
| Average Repayment Term | Seven years | 7 years |
Statistics about secured and unsecured loans
Benefits of Installment Loans for People with Bad Credit
People with bad credit may still obtain the support they need, even if their choices are limited compared to those available to individuals with solid credit. To begin, consider a popular and risky payday loan to obtain a personal loan despite having poor credit. Some other options are loan payments, auto loan, title loans, and coping with Loan Rejections and unexpected expenses.
Payday Loans
Filling out an application with a payday lender is the first step in obtaining a loan. To secure a loan, the borrower pays the lender's origination costs and interest by writing a personal check for the money they need, plus those expenses. The borrower's bank account details will be utilized to make direct deposits for loan disbursement and automated withdrawals for loan payments when he takes out a payday loan over the phone or online. If borrowers need money urgently, they might apply for a short-term cash advance from a bank or credit union, like getting an auto loan or title loans.
Payday Loans Risk
Loan Rejections can be hard to swallow, but it's essential to understand how to overcome them and find the best loan option for your situation. One of the significant risks associated with payday loans is their high-interest rates, which could lead to financial difficulty if not managed properly. That's why it's crucial to budget appropriately and save for unexpected expenses to minimize the need for high-risk loans.
Payday loans have become complicated here. When returned on time, payday loans are helpful. If not, payday lenders roll any outstanding debt into a new loan. Choosing a reputable lender among various lending partners in the market is essential. Opting for a direct lender can sometimes provide better lending options tailored to your financial health.
An example: Suppose you borrow $200 from a payday lender that charges 32% interest and $18 in upfront fees. You borrow $200 and promise to repay $300. When it's time to repay the loan, your other expenses and requirements have depleted your finances. The lender refinances the sum. Instead of paying down the debt, the $300 becomes the new principle and is subject to origination fees and interest. It is crucial to understand the financial product before committing to it.
Payday Loan Alternative for Bad Credit
Since negative credit loans have strict criteria, persons with financial problems may not desire a personal loan. After all, a loan is just another cost to pay. Instead of a loan, consider these tips:
Debt Negotiation
You can deal with your creditors if you can't pay your payments and need emergency loans. Lenders might vary due dates to meet pay cycles or income fluctuations. Utility providers cooperate with clients to keep their accounts current and vital services running. Many organizations provide "budget billing" alternatives that let clients pay a fixed monthly charge based on yearly average use. Companies desire money and will cooperate with you. Call them now to get your accounts in order.
Sell Your Crap
Your income ratio may push you to have that vast yard sale. Many individuals (like us) love to uncover gems in others' trash. If haggling with neighbors isn't your style, consignment businesses and vintage clothes stores can purchase or sell your items (for a fee).
Crowdfunding
During the approval process for crowdfunding, it's essential to provide adequate proof of income to ensure the success of your campaign. Additionally, it's crucial to consider your monthly income and set achievable goals for your project. Be aware that most crowdfunding platforms require a few business days to review and approve campaigns before they go live. Also, remember that your project's repayment term should be realistic and manageable for both you and your backers.
Sometimes asking for assistance is the only route out of debt. Crowdfunding is a clever approach to raising emergency cash. Sites like GoFundMe and Plumfund let individuals connect with thousands for financial aid. Due to their reach, crowdfunding campaigns enable many individuals to donate modest sums quickly. Most successful crowdfunding initiatives come from individuals in need.
Improve Credit
This article shows that poor credit loans have limits that good credit loans do not. Remember, your credit score indicates how hazardous it is to lend you money. To modify your credit score, you must lower the risk of conducting business with you.
Credit score improvement takes time. Since it determines your behavior over time, it will only change with consistent progress.
As you recover financially, consider the following methods to improve your credit score:
Pay Up
One effective way to improve your credit score is by paying your bills on time. Additionally, consider exploring options like Federal credit unions for more favorable loan terms. Federal credit unions often provide more personalized services and may help you manage your loan repayments more efficiently.
Applying for personal loan applications can also be an option to consolidate your debt and manage your finances better. Another alternative to consider is P2P lending, which offers more flexible terms than traditional lending institutions. You can improve your credit score over time by taking advantage of these options and consistently making timely payments.
Since your payment history contributes to almost one-third of your credit score, making on-time payments to lenders and creditors is the most excellent way to enhance your credit. Even if you have bad credit (a FICO score of 650 or less), a good payment history might help you get a loan or credit line.
Get Authorized
Being an authorized user on someone else's card might boost your credit. You don't need to make payments or buy anything to boost your credit score using a credit card. The principal cardholder may establish spending limitations for additional users on various cards.
Your credit will grow somewhat since you won't be the primary cardholder making payments. Your score will only improve if the account is in good standing—partner with someone with a strong credit score and decent financial practices.
Credit Errors
Another important aspect is that many potential borrowers often make mistakes in their credit reports. By reviewing your credit reports, you may identify and correct these errors, which would improve your credit score. Some bad credit loan companies perform a soft credit check during the application process, which will not harm your score. In addition, providing accurate information on your annual income and financial history can help increase your approval odds when applying for loans or credit lines, particularly for potential borrowers with limited or poor credit.
When you obtain your free credit report, study it carefully. Credit reports might include inaccuracies, such as paid accounts displaying overdue or cash, not yours. A mistake in your report might hurt your credit. Review your account details often to confirm that the only credit activity shown is your own.
Credit Card Deposit
Credit cards come in two forms.
Unsecured credit cards have credit limits depending on the cardholder's creditworthiness. A secured credit card is a line of credit supported (or backed) by a deposit from the cardholder/borrower to the credit card issuer; for example, if you deposited $300, your card's top limit would be $300. Secure credit cards may assist persons with weak credit in developing excellent spending habits and credit care. Making on-time payments and using credit sparingly can benefit borrowers with terrible credit.
Credit Inquiry and Online Application
A credit inquiry is important when considering a new credit card or loan. The application process often starts with an online application. This application allows the potential lending institution to review your credit history and decide whether they approve your credit request. Researching and comparing various credit cards and loans before applying is essential, as multiple inquiries in a short period can negatively impact your credit score.
Network of Lenders
A network of lenders is a group of financial institutions collaborating to offer consumers various loan and credit options. This network works together to provide credit to individuals who may not qualify for credit from traditional banks or lending institutions. By working with a network of lenders, borrowers have access to a wider range of options and can often find the best fit for their needs and credit history.
In today's financial landscape, obtaining a loan can be challenging, especially for individuals with less-than-ideal credit scores. At PaydayChampion, we understand everyone deserves an opportunity to access financial assistance when needed. That's why we proudly serve customers across the United States, providing loan options to individuals facing bad credit situations. Below is a comprehensive table highlighting the American states where our company is actively operating. We believe in empowering our customers by offering reliable loan solutions and dedicated support regardless of their credit history. Explore the table to discover the states where our services are available and take a step towards securing the financial assistance you require.
AL / Alabama
AK / Alaska
AZ / Arizona
AR / Arkansas
CA / California
CO / Colorado
CT / Connecticut
DE / Delaware
DC / District Of Columbia
FL / Florida
GA / Georgia
HI / Hawaii
ID / Idaho
IL / Illinois
IN / Indiana
IA / Iowa
KS / Kansas
KY / Kentucky
LA / Louisiana
ME / Maine
MD / Maryland
MA / Massachusetts
MI / Michigan
MN / Minnesota
MS / Mississippi
MO / Missouri
MT / Montana
NE / Nebraska
NV / Nevada
NH / New Hampshire
NJ / New Jersey
NM / New Mexico
NY / New York
NC / North Carolina
ND / North Dakota
OH / Ohio
OK / Oklahoma
OR / Oregon
PA / Pennsylvania
RI / Rhode Island
SC / South Carolina
SD / South Dakota
TN / Tennessee
TX / Texas
UT / Utah
VT / Vermont
VA / Virginia
WA / Washington
WV / West Virginia
WI / Wisconsin
WY / Wyoming
American States where PaydayChampion Provides Services for Bad Credit Loans
Final Thoughts
Understanding your credit report, the different types of credit cards, and engaging with a network of lenders can help improve your chances of finding the best credit options. Be thorough in your research and be mindful of the application process to maintain a healthy credit score.
Bad credit personal loans provide more than short-term financial solutions. A personal loan may boost your credit by borrowing what you need and making on-time payments. Better credit means more options when times are bad.
Common types of loans include auto title loans and personal installment loans. When you need a loan, you may feel rushed to make the best choice for you, your family, and your finances. It's easy to select the first choice when bills are due and fundamental requirements must be satisfied. Later, contemplate the repercussions.
Consider contacting a bad credit loan company with a reliable lending platform. Think about the loan's long-term repercussions before doing so. You must consider future problems while tackling the current ones. Some lenders also offer hardship programs to help borrowers in challenging financial situations. A loan is a debt you'll have long after your financial troubles are over. To stop a debt cycle, implement a sound financial strategy to fix and avoid tomorrow's issues.
Frequently Asked Questions
How can I get a loan with bad credit when I urgently need financial assistance?
Options include payday loans, pawning assets, borrowing from friends/family, credit cards if approved, employer advances, crowdfunding, or nonprofit organization assistance.
What are my options for obtaining a loan with a low credit score and no collateral?
Consider credit builder loans, FHA and VA loans, secured credit cards, co-signer loans, peer-to-peer lending, cash advances, 401k/pension loans, or local community banks.
What steps can I take to improve my chances of getting approved for a loan despite my poor credit history?
Pay down debts, become an authorized user on someone else's card, take out a credit builder loan, avoid new credit applications, and explain any derogatory marks.
Are there any specific types of loans or financial products designed for people with bad credit that I should consider?
Yes, secured credit cards, FHA loans, VA loans, payday alternative loans, secured auto loans, credit builder loans, and loans from credit unions are possibilities.