What is Payday Loan & How Does it Work?
Payday Loans are a simple and convenient method to borrow money without needing a credit check if in immediate need of financial assistance. PaydayChampion offers a straightforward application to simplify the process. Online Payday Loan or In-Store Loan associates are ready to give fast approval.
Internet payday lenders started operating nationwide, using rising technology to reach consumers hundreds or thousands of miles away. Internet lenders have established operations outside the U.S., in nations with laxer restrictions than even the most liberal states. Borrowers generally have little recourse against unethical lending and collection methods.
The application procedure for payday loans is straightforward, and there are a few prerequisites to meet. The most common requirements for loan approval are a checking or savings account at a bank or credit union, a prepaid card account, and employment or another verified source of income.
Payday loan companies often demand borrowers to submit proof of income, most commonly in the form of pay stubs from employment. The lender then provides a loan for a portion of the money in exchange for a loan payment. Borrowers must repay the loan quickly, often within the next month or less.
Main Points
Payday Loans are short-term loans accessible without a credit check and have high-interest rates.
The application process is quick and easy and requires proof of income, bank account info, and other relevant information.
The history of payday lending began with loan sharks during the Great Depression before becoming a popular online service in the 1980s.
What is a Payday Loan?
A payday loan is a cash advance that doesn't need security. By state, payday loan terms and costs vary. Short-term loans have to repay within a week or two or by your next paycheck. Payday loans often have high-interest rates and don't need a credit check.
Payday Champion can help you find a loan place near you with no credit check. Use their online platform to search for loan providers that offer loans without a credit check.
What is the History of Payday Loans?
Consumers in the United States had limited access to payday loans before the 1980s. Some lenders were predatory. The Great Depression was responsible for the rise of loan sharks. Pawn shops are the lender of last option for many unemployed or down-on-the-luck persons.
The Internet has led to a boom in payday lenders. The Internet brought a new means of communication, business, and financial transactions. Borrowers appreciated not having to go to a payday loan business. Online payday lending offered new conveniences but exploitative tactics and financial repercussions.
How Do Payday Loans Work?
Payday loans are short-term economic advances secured by the borrower's check held in escrow or remote access to the bank account. The borrower receives cash and writes a personal statement for the amount borrowed plus the financing fee. Payday loan terms vary by person and location. Some payday lenders check credit before making a loan. Some borrowers consent to electronic access to bank accounts to obtain and repay payday loans.
How to Process a Payday Loan?
Applying online for a payday loan is simple and takes only ten minutes. Take time and offer exact information to improve the application's chances. Here are four easy steps to get a payday loan online.
Complete the loan application. Ensure have some important facts about the borrower before applying for the loan. The income, employment, residence, social security number, bank account, and other relevant information need to know. Include as much information in the loan application questions. Contact the company and ask questions if you need clarification on anything.
Obtain and contrast the offers. Find out in a matter of minutes whether accepted. Carefully examines the request and conditions. Don't automatically assume that all businesses are ethical. The payday loan provider probably goes through the APR and costs for the loan. Ensure to be OK with the repayment schedule before signing the loan agreement.
Sign the contract. Sign the loan agreement with the full name after carefully reading it.
Get Cash. Lenders normally send the money by bank deposit 1 or 2 business days after signing the loan agreement. If you need the money immediately, visit a payday loan provider with a physical facility in the community.
What Are the Requirements to Qualify for a Payday Loan?
Checking account. A checking account is a bank account that enables simple deposits and withdrawals of cash for everyday use. It includes depositing a check, using a debit card, and setting up direct deposit. Another common requirement among lenders is that the loan repayments come straight from the same account.
Must be at least 18 years old. It is required that the borrower be at least 18 years old to be legally obligated by the contract for the payday loan.
Valid IDs. Valid identification (ID) is an important requirement for a Payday Loan. Borrowers are required to supply a reliable home address, a phone number, and an email address for communication. In addition, most financial institutions require applicants to provide contact information for references.
Proof of Income. Proof of income refers to a record that details the total earnings over a certain time frame. The minimum required income changes depending on the location. Lenders always want documentation proving that to repay the loan when it comes due. The income must be regular and continuous, even if it is not required to originate from traditional work.
What Are the Types of Payday Loans Payday Lenders Offer?
Cash-Advance Loans
Cash advances are short-term loans from credit card companies. Borrowing against the credit card's limit frequently entails a different APR and charge. Some issuers set a cash advance credit limit. Cash advances are costly and should only be utilized as a short-term option due to the fees and interest rates.
Pros
Gives instant access to unsecured money with no need for collateral.
Simple to obtain—no underwriting or credit checks are required.
Cons
Very high fees and APR
There is no grace period; cash advances' interest starts to accrue immediately.
Check-Advance Loans
Check advance, payday loan, cash advance, and short-term loan are synonyms. A check advance is a small, unsecured borrowing generally returned on the following paycheck. A borrower gets an early cash advance on the next salary and must return it when paid.
Technology makes check advances and payday loans simpler to acquire. Online or mobile check advances are available. Some lenders underwrite loans based on various factors that are simpler to get or a better indicator of borrower repayment capabilities.
Postdated Check Loans
Postdated checks have a future date. Instead of submitting a postdated statement, utilize online payment services or contact the biller to change the due date. Postdated checks are cashed or deposited at any time unless the writer tells the bank not to await a specified date.
Deferred Deposit Loans
A deferred deposit loan refers to any comparable transaction in which a person delivers a check drawn on the account to a cashing company. In return for cash and the agreement not to pay the check until later.
What Are the Common Reasons for Borrowing a Payday Loan?
Payday loans are short-term loans obtained without collateral or even a bank account. These loans are intended to address unexpected costs that arise quickly. Get the cash in a lump amount to aid with the emergency and repay the loan with the next wage, which includes:
Emergencies
Automobile maintenance
repairs to the home
Defective boilers
Medical costs
Groceries
An unexpected lease costs
Funerals
Who Are the Common Borrowers of Payday Loans?
Most payday loan borrowers are Caucasian, female, and 25 to 44. After adjusting for other factors, five groups are more likely to have utilized a payday loan: those without a four-year college degree, renters, African Americans, and those earning less than $40,000 per year.
What Do the Critics Say About Payday Loans?
Payday loans have a terrible image as money-draining traps that trap low-income customers in debt. Critics assert that lenders of this form of loan prey on the most vulnerable consumers because of the exorbitant interest rates. Critics claim that the costs are outrageous and resemble predatory lending.
What are the Proponent's Position and Rebuttals to the Criticism?
Payday lenders are called debt traps. Desperate borrowers take high-interest, short-term loans. Critics argue that "rollover" is vital to the payday lending business model. Many individuals term payday loans exploitative since rollover is prevalent. Lenders don't lower rollover because of recurring business. If the borrower repays, the lender receives the money back and interest.
Payday lending has exploded in recent years. Politicians, consumer organizations, and journalists have criticized the payday loan business for exploiting vulnerable people and targeting particular communities for profit. The corporation responds to criticism by saying it assists bank and credit union rejects by granting the credit. The upshot is that payday lending regulation has risen swiftly.
Where to Get a Payday Loan?
Get a Payday Loan from PaydayChampion. Quick in-store or online Payday Loans and other lending options are available from PaydayChampion.
Quick response. Get a response to the application within a few minutes due to the speedy loan approval procedure.
Store-based application. Bring a personal check, a current bank statement, a valid photo ID, and proof of income to any location. Get the money the same day if accepted.
Electronic application. Apply online on any page on the PaydayChampion website to complete the short application. If approved, get the money in the bank account the same day or the next day.
Confidence Guaranteed. PaydayChampion provides a following business day satisfaction guarantee for payday loans. Refund it by the end of the next business day without costs If deciding not to utilize a cash advance.
As a leading provider of financial solutions, we are proud to serve customers across several states in the United States. Our company's commitment to supporting individuals in their financial needs has allowed us to establish a strong presence in various regions. We understand that unexpected expenses can arise, and we strive to offer convenient and accessible options to help our customers navigate these situations. Below is a comprehensive list of American states where our company is actively operating, providing reliable payday loan services to those who require them.
Alabama
Alaska
Arizona
Arkansas
California
Colorado
Connecticut
Delaware
District Of Columbia
Florida
Georgia
Hawaii
Idaho
Illinois
Indiana
Iowa
Kansas
Kentucky
Louisiana
Maine
Maryland
Massachusetts
Michigan
Minnesota
Mississippi
Missouri
Montana
Nebraska
Nevada
New Hampshire
New Jersey
New Mexico
New York
North Carolina
North Dakota
Ohio
Oklahoma
Oregon
Pennsylvania
Rhode Island
South Carolina
South Dakota
Tennessee
Texas
Utah
Vermont
Virginia
Washington
West Virginia
Wisconsin
Wyoming
American States where PaydayChampion Offers Payday Loans
What Are the Usual Interest Rates of a Payday Loan?
Interest fees from payday lenders often range from $15 to $20 for each $100 that is borrowed. The annual percentage rate (APR) for payday loans varies from 391% to more than 521%. It is the same method used to calculate the APR for credit cards, mortgages, auto loans, and other types of loans.
What Are the Minimum and Maximum Amounts to Borrow in Payday Loan?
According to the Consumer Financial Protection Bureau, a typical payday loan costs $350 and lasts two weeks. The maximum amount to borrow with a payday loan ranges from $50 to $1,000, depending on the state the borrower resides.
Payday lending is now permitted in 37 states, although there are rules on these loans' costs, size, and periods. For example, 32 of the 37 states that permit payday loans have established definite loan-to-value restrictions. Maine, Utah, Wisconsin, and Wyoming do not have a maximum loan amount ceiling. Delaware, Idaho, and Illinois have the highest barrier at $1,000, while Montana and California have the lowest cap at $300. The maximum amount for payday loans in states like Nevada and New Mexico is 25% of the borrower's monthly salary.
Below are some statistics about the possible risks of a payday loan:
| Risk | Percentage |
| --- | --- |
| High interest rates | 300-800% APR |
| High fees | $15-30 per $100 borrowed |
| Difficulty repaying | 20% of borrowers default |
| Debt spiral | Borrowers may take out more loans to pay off existing loans |
| Wage garnishment | Lenders may garnish wages to collect debts |
| Negative impact on credit score | Taking out a payday loan can lower your credit score |
| Legal action | Lenders may take legal action to collect debts |
Statistics about the possible risks of a payday loan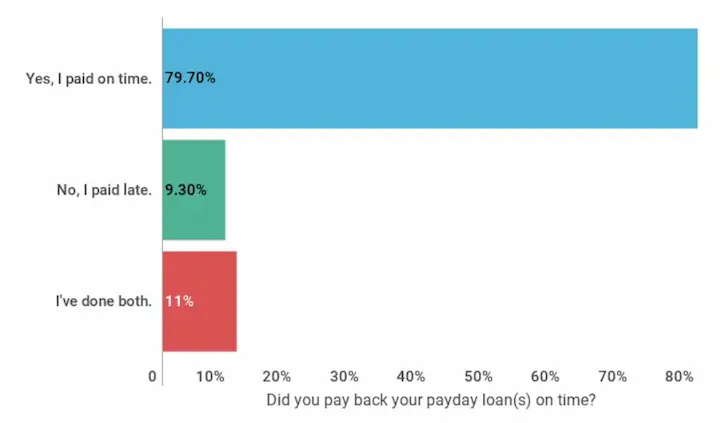 Do Payday Loans Require a Collateral?
Payday loans do not need borrowers to provide any collateral as security. The lending firm only wants evidence of income, proof of having a bank account, and an official form of identification.
What Are the Alternatives for a Payday Loan?
Payday loans are simple to get but are expensive. Alternatives to these loans give much-needed respite from the almost 400% annual percentage rates (APR) that payday lenders demand. A longer repayment period offered by different loan types helps pay off debt while making small monthly installments. It is best to explore all alternative possibilities before resorting to a payday loan, regardless of the state of the credit history.
A personal loan is a cash borrowed from a lender for almost any reason, such as paying off debt, financing a large purchase like a car or boat, or defraying a significant expenditure like a wedding or vacation. Online lenders deal with consumers with good or bad credit.
Credit cards are plastic or metal cards used to pay with credit for goods or services. Credit cards are distributed by retailers, banks, and other financial institutions, often with perks like cash back, savings, and reward miles. On purchases made using credit cards, interest is assessed. Debit and secured credit cards are solutions for poor or no credit.
Borrowing money from friends and family strains relationships, but in some circumstances, it's the most practical way to avoid expensive loans. Always put these kinds of loans in writing, including the duration of the repayment term, and include an interest-bearing offer. It supports ensuring dependability and confidence. Family and friends assist in the form of free child care, shared meals, or other services if unable to give financially.
What Are the Benefits of a Payday Loan?
Payday loans assist in meeting immediate financial demands, but carefully consider the advantages and disadvantages of this financing option before deciding.
Simple application process – The application procedure takes several days or even weeks to complete for a traditional bank loan, depending on how many papers need to provide. The application process for a payday loan is often finished in less than an hour, and many lenders offer fast online application processes.
Quick funding: Cash is normally sent to the account within one to two business days after the application is reviewed and accepted.
No credit check – Some creditors won't even check credit history and the ones that do often do a soft draw, which won't hurt the score. Applicants with poor credit ratings are accepted, provided the borrower has no recent bankruptcy or unpaid payday loan.
What are the Possible Risks of a Payday Loan?
High-interest rates – Loans quickly accrue significant interest at triple-digit interest rates.
Short payback terms: Pay off a payday loan as soon as possible to avoid paying excessive fees and interest, ideally within a few weeks, instead of a longer-term loan like a car or mortgage. Make sure to return the loan on time with money from the next paycheck to prevent getting caught in a loop of renewing payday loans only to cover the regular expenditures.
What Happens if I Am Unable to Pay Back My Payday Loan?
Lenders take many different measures when failing to repay a Payday Loan. The lender takes legal action, including wage garnishment and lawsuits, to collect on any outstanding debts—failure to repay debt results in legal consequences, albeit very unusual. The lender takes any of these actions to recover the money after the loan term has ended. Initiate debits from the bank account without the knowledge or consent, resulting in service charges being assessed to the report. Consider wage garnishment when it fails. Money is deducted from the paycheck and sent directly to the creditor.
Is Payday Loans Legal?
Exempted payday loans from usury or traditional small loan laws and passed legislation authorizing loans based on holding the borrower's check or electronic payment from a bank account. These loans typically have triple-digit interest rates and are fully due on the borrower's next payday. Payday loans are legal in states where lawmakers have either deregulated small loans.
Payday loans are modest loans that must comply with local laws. States have historically set limits on small loan interest rates at 24 to 48 percent annually and mandated installment repayment plans.
Is Payday Loan the Most Common Type of Cash Advance Loan?
Payday loans are specific cash advances intended to bridge the gap between one payment and the next.
Which Is Better, Payday Loan or Credit Card Cash Advance?
A payday loan is a good option for individuals who need money quickly. The application process takes just minutes, which is why it is so popular. Transaction proceeds are put into the confirmed bank account after the loan is finalized. The lender insists on a postdated check covering the principal and interest payments.
Payday loans and credit card cash advances include upfront and ongoing fees. Payday loans have the highest upfront costs, costing $15 for every $100 and $75 per $500. Credit card cash advances are more affordable than payday loans if paid off within a few weeks due to a lower upfront cost and no interest.
Frequently Asked Questions
What is a payday loan, and how does it work?
A payday loan is a short-term, high-interest loan, typically $500 or less. The borrower provides a post-dated check or electronic withdrawal authorization as collateral before receiving cash. The full amount is repaid by the next payday.
Can you explain the history and evolution of payday loans?
Payday loans originated in the 1990s as an advance on a paycheck from employers. Storefront and online payday lenders emerged in the 2000s, charging fees and high interest rates on short-term loans without credit checks. Laws and regulations have since aimed to protect consumers.
What are the different types of payday loans available to consumers?
Standard payday loans provided directly through storefronts or online lenders. Some variations are installment loans allowing repayment over months, line of credit loans allowing multiple withdrawals, and online-only loans arranged entirely through electronic interfaces.
What is the typical process for obtaining a payday loan, from application to repayment?
The process includes filling out a basic online or in-store application, providing identity and income verification, receiving cash or direct deposit quickly, and repaying in full by the agreed due date, usually your next pay date or within 1-2 weeks.
What are the qualifications and eligibility criteria for getting a payday loan?
You must have government-issued ID, proof of income, a bank account, be 18+ years old, and have the ability to repay. Credit checks are rarely required. Loan amounts range from $100-$1000 based on state laws.