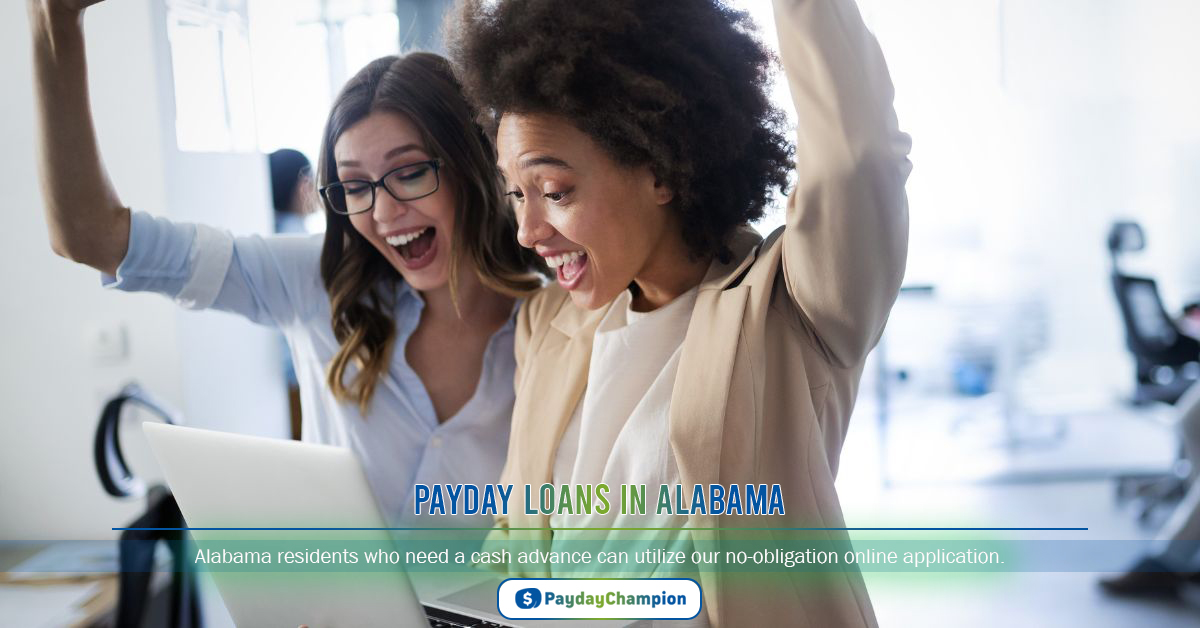 Payday Loans in Alabama (AL) No Credit Check & Bad Credit
If you need a cash advance quickly, Payday Champion might be able to help. Payday loans in Alabama are short-term loans with one monthly payment. Alabama payday loan products are also available to people with poor credit ratings. These outstanding loans can be a good option for a financial crisis.
We offer online loan request forms that allow you to apply for Alabama payday loans. In addition, we have a knowledgeable and friendly customer service team available to help you with any questions. Once approved, we will deposit the money in your checking account the next day.
What Are Alabama Payday Loans?
Payday loans in Alabama are short-term cash advance loans that may help you pay for auto repairs, bills, and other unexpected needs. Payday lending is permitted in Alabama under Ala. Code 5-18A-1 et seq. allows lenders to provide loans of up to $500. Alabama's highest interest rate for a payday loan is 17.50 percent for every $100 borrowed. On a single loan request, a rollover is permitted. Loan defaults are subject to a $30 non-sufficient funds charge; criminal action is forbidden, but collection measures are permitted.
Those in Alabama who are short on cash may use our no-obligation online payday loan application to be approved for a cash advance as soon as the next business day, regardless of their credit history. Your money might be in your state bank account within one business day after approval.
Is Getting A Payday Loan In Alabama Legal?
Alabama allows it to take out a payday loan of up to $500. According to Alabama state laws, a payday loan may have a principal amount of up to $500.00 and a period of up to 31 days, with the former being the most common. Payday lenders in Alabama can levy financing charges of up to 17.5% on every $100 of the loan's principle, with an annual rate cap of 456.25%. As of 2019, 191,900 Alabamans took out more than $500 million in payday loans, paying a total of $99 million in finance charges.
Information on payday loans loans
Maximum Loan Amount
Alabama payday loans for bad credit are available for up to $2,000 in the state of Alabama. We will quickly inform you if your application was accepted and the amount you may be eligible for.
The cost of a loan
Interest on your Payday Champion Alabama payday or installment loan has a maximum Annual Percentage Rate (APR) of 400%. Your APR will depend on the exact payment schedule that you use. These details are available in the loan agreement. 
This loan is an expensive form of credit and may not be an excellent option for meeting long-term financial needs. Payday Champion urges you to use this loan responsibly.
The loan term
Alabama payday loans last approximately one month. There is a rollover option if you don't pay the loan on time. Rollovers are always expensive.
Urgent loans are available to residents of all cities of Alabama, USA
Alabaster
Albertville
Alexander City
Andalusia
Anniston
Arab
Athens
Atmore
Attalla
Auburn
Bay Minette
Bessemer
Birmingham
Boaz
Brewton
Calera
Center Point
Chelsea
Chickasaw
Clanton
Clay
Cullman
Daleville
Daphne
Decatur
Demopolis
Dothan
Enterprise
Eufaula
Fairfield
Fairhope
Florence
Foley
Fort Payne
Fultondale
Gadsden
Gardendale
Glencoe
Greenville
Gulf Shores
Guntersville
Hamilton
Hartselle
Helena
Homewood
Hoover
Hueytown
Huntsville
Irondale
Jacksonville
Jasper
Lanett
Leeds
Lincoln
Madison
Margaret town
Midfield
Millbrook
Mobile
Monroeville
Montevallo
Montgomery
Moody
Mountain Brook
Muscle Shoals
Northport
Oneonta
Opelika
Opp
Orange Beach
Oxford
Ozark
Pelham
Pell City
Phenix City
Pike Road town
Pinson
Pleasant Grove
Prattville
Prichard
Rainbow City
Rainsville
Roanoke
Robertsdale
Russellville
Saraland
Satsuma
Scottsboro
Selma
Semmes
Sheffield
Smiths Station
Southside
Spanish Fort
Sylacauga
Talladega
Tarrant
Troy
Trussville
Tuscaloosa
Tuscumbia
Tuskegee
Valley
Vestavia Hills
Wetumpka
Questions about Alabama Online Installment Loans
Payday Champion – How do I get an Alabama loan online?
To be eligible for payday lending in Alabama, you must meet these requirements:
Minimum 19 years old

A permanent resident or US citizen is possible.

You must be an Alabama resident

You must keep your bank account active

It is vital to have a steady source of income.

Having a valid contact number and an active email address is essential.
We don't offer credit products to US Armed Forces personnel and their dependents.
What is a Payday Loan?
 Payday loans are short-term loans that you must repay in full within the next payday. 
Is it possible for same-day funding to be available?
We will deposit the money in your account the next day if approved.
Can I repay my Alabama online loan loan loan early?
Yes. There is no penalty for early repayment. To reduce the principal, you can choose to make a smaller or earlier payment.
What if I don't live in Alabama but want to apply online for an installment mortgage?
You must be a resident of Alabama to apply for an Alabama payday loan online. Whether you live in cities like Birmingham or Montgomery, we make applying for online payday loans for bad credit scores in Alabama easy.
If you live in another state, please check our rates and terms page to see if other online loans are available, such as Title Loans or installment Loans.
Are You Eligible For A Payday Loan If You Reside In Alabama?
A few basic requirements must be met before you can be considered for an Alabama payday loan!
Over the age of 18 and a US citizen, you must apply.
You should have a steady monthly income of at least $800.
You must have a working cell phone number and a bank account that is open and active (for your loan to be deposited into).
Tags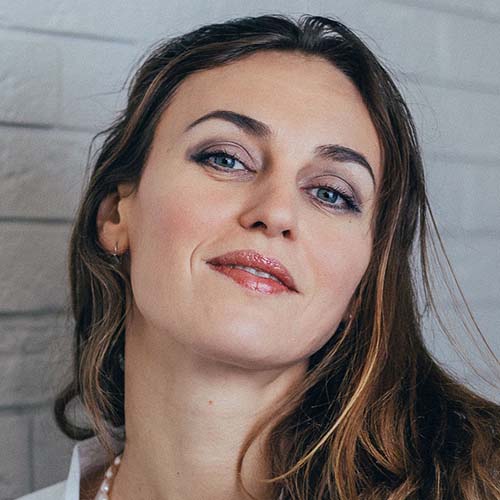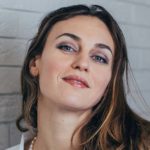 Kathy Jane Buchanan is a Certified Financial Planner, with more than two decades of experience in writing about personal finances. She has written a variety of articles for PaydayChampion and has helped to simplify lending, investing, banking and credit as well as other topics related to personal finance for consumers. Kathy has worked for major financial companies and also worked for small credit unions. she founded a fee-only financial planning firm, Approach Financial Planning, located in Houston, Texas.